Notice:
The Health Works is now closed, however many of our practitioners are still operating.
If you'd like to enquire about treatments, please email healthworks@clara.co.uk and we'll connect you to the right person to help you.
Timetable | Prices | Pilates | Ashtanga Vinyasa Yoga | Hatha Yoga | Vinyasa Flow Yoga
Health Works is well known in the area for small, niche yoga and pilates classes. The teachers offer approximately 60 per week, which gives you plenty of choice.
The unique small classes (4 people max – except for Ashtanga which has 5) means you get lots of individual attention. This lets you get the most from the expert teachers in an intimate, friendly & supportive environment.
This is something quite rare as many classes have 20 or more people attending. Can you imagine what it feels like to be at the back of a class like this? The teacher can't possibly get round to each individual in turn and to check whether you are doing the moves correctly, or whether you may be harming yourself. In fact it can be quite boring. In a class of 4 or 5, the teacher can see what each person is doing and the teachers here make those individual adjustments so that you can really feel the difference. This has far more therapeutic benefit than what is on offer in a large class.
Classes run day and evening from Monday to Saturday (special extended workshops on some Sundays) and many of them have regulars already. However, with over 200 people a week attending classes, there is always someone away. This is when you can have the opportunity to try a drop in, indeed some people prefer drop ins, as they work different shift patterns.
Yoga & Pilates classes are always small, with around 4 – 5 people per class. There are a range of specialist classes and you can also book 1-1 classes at a time to suit.
The 14 teachers working here provide a diverse and lively programme of classes, led by experts in their fields.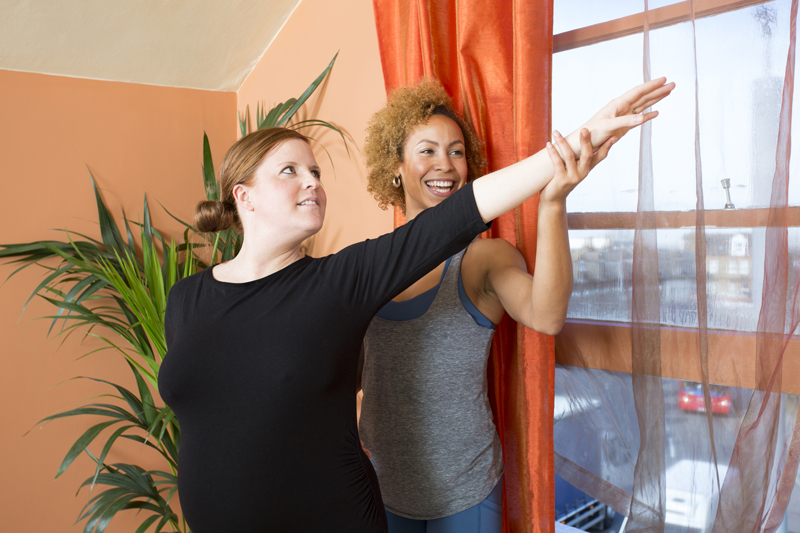 Timetable
Our timetable of classes include:
Pilates
Pre & postnatal and women only pilates
Ante & postnatal yoga
Ashtanga yoga
Hatha yoga
Vinyasa flow yoga
Gentle yoga
Mum and baby massage and yoga
Dad and baby massage and yoga
Yoga Timetable
Last updated March 4th 2020

Pilates Timetable
Last updated March 4th 2020
Prices
Pay as you go:
45 minute classes – £10
1 hour classes – £13
1.25 hour classes – £15
1.5 hour classes – £17
Save money with our class passes:
£54 when you pay for a set of 6 classes (£9 per class) – 45 minutes
£72 when you pay for a set of 6 classes (£12 per class) – 1 hour
£84 when you pay for a set of 6 classes (£14 per class) – 1.25 hour
£96 when you pay for a set of 6 classes (£16 per class) – 1.5 hour
Remember – we have 4 people maximum in each class (5 in Ashtanga Yoga), so you get lots of individual attention. Please book in advance if you wish to try a drop in class. Then if you want to become a regular, you need to pay for six in advance. If you plan to be away for a week, give us at least 24hours notice and you don't have to pay for those classes. If you cancel with short notice or don't turn up then you will be charged for your class whether it is pre paid or a drop in.
You can either text us on 07587 638 152
Or phone on 020 8503 7794
Or email on healthworks@clara.co.uk
If you have any more questions about the classes please do not hesitate to ask.

Pilates
The team: Chloe Redmond | Mee Lee Morris | Claire Harris | Marjan Farahanipour
Pilates was designed to be a complete physical fitness discipline which strengthens and realigns the entire body, avoiding high impact type of stress on the body. Its focus is unique in its emphasis on lengthening and alignment, and it can successfully train muscles and help to prevent injury.
Pilates focuses on the core postural muscles that help keep the body balanced and are essential to providing support for the spine. In particular, Pilates exercises teach awareness of breath and alignment of the spine, and strengthen the deep torso muscles, which are important to help alleviate and prevent back pain. The "powerhouse" (abdomen, lower back, and buttocks) is supported and strengthened, enabling the rest of the body to move freely.
Ashtanga Vinyasa Yoga
The team: Laura Graham-Dullaert | Claire Evans
Ashtanga Vinyasa a vigorous practice, strengthening the body and opening both the body and the mind. The physical practice of Ashtanga Vinyasa itself is fascinating, at once soothing and invigorating. It's a place where we learn to strengthen and heal the body, whilst quieting the mind. It is focused and dynamic, the sequence of poses builds as a practitioner becomes stronger mentally and physically, meaning that it is genuinely suitable for almost anyone, regardless of their age, level of experience or fitness.
The beginner student will start at the beginning of the Primary Series, a sequence of poses linked together by constant fluid movements with the breath. It is a demanding practice that uses and strengthens every part of the body.
As a teacher Laura passes on this method to you and it becomes your own, allowing you to practice and build your experience between times spent with a teacher. Self practice is key to the Ashtanga Vinyasa method, teaching one to build a level of physical discipline and mental focus that translates into 'real life' too.
Hatha Yoga

The team: Christina Lecerf | Charlotte van Der Byl
Yoga practice consists of five key elements: proper breathing, proper exercise, proper relaxation, proper diet and positive thinking. The yoga postures or 'asanas' are designed to ease muscular tension, tone internal organs and improve flexibility of the body's joints and ligaments
Regular practice stimulates the Immune System, reduces stress and tension, improves concentration, boosts self-esteem and creates a sense of general well-being. Yoga can also help to manage or control anxiety, arthritis, asthma, back pain, blood pressure, chronic fatigue, depression, head-aches, MS and many other conditions.
Don't let an old person creep into your body! Become supple, improve the immune system and your mental and physical health in general with this amazing practice.
Vinyasa Flow Yoga
The team: Hayley Johns | Sarah Rush | Yolande Diver
Vinyasa means "breath-synchronized movement," and Vinyasa yoga is a series of poses where the breath is an important component as the teacher shows you how to move from one pose to the next on an inhale or an exhale. This style is sometimes also called flow yoga, because of the smooth way that the poses run together and become almost dance-like.
Vinyasa Flow Yoga focuses on correct engagement and alignment, balanced with freedom and expression of breath led movement. This type of yoga can be dynamic and upbeat or more restorative and contemplative when needed. Our teachers encourage students to be completely present and at home in their bodies, paying particular attention on stretching and making space in the body and relaxing the mind.

Fitness & Dance Classes
The team: Chloe Redmond
Have fun and keep fit with Chloe Redmond's Fitness and Dance Classes.
Personal Training
Pilates
Circuits
Zumba
Bellydance
Dance choreography
For more details see www.thebodypeople.co.uk